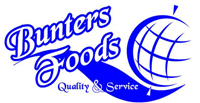 CONTACT US
Bunter's Foods
60–62 Soi Chaloem Prakiat 81
Prawet
Bangkok
10250
Email: info@buntersfoodsbkk.com
Tel: +66 (0) 2 3287840
FAX: +66 (0) 2 3287841
Mobile +66 (0) 89 6890600
After receiving your order it will only be dispatched/delivered, upon receipt of payment. For orders outside of Bangkok we will dispatch to you for collection at you local collection point. All orders will be shipped in cool boxes packed with dry ice.
Payment should be made by bank transfer to our company account, to the full invoice amount, including any packing and transport costs.
On orders to be sent outside of Bangkok, the cost of packaging, dry ice and transport will be included on the invoice.